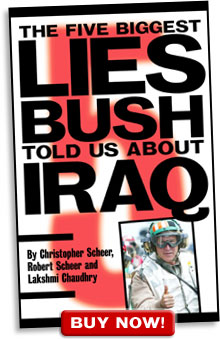 The Five Biggest Lies Bush Told Us About Iraq, by Christopher Scheer, Lakshmi Chaudhry and Robert Scheer, is an insightful and incisive primer exposing the bullying and mendacious misinformation campaign George Bush's White House used to secure the support of Congress, the media and a majority of Americans for a preemptive invasion and occupation of Iraq.
From the enormous bait-and-switch operation that, within hours after the collapse of the World Trade Center, tried to link Al Qaeda with Saddam Hussein, to the clumsy attempts by the U.S. military to pacify, reconstruct and democratize a complex Muslim nation on the other side of the world, this important book razes the house of cards upon which our foreign policy has been built since 9/11.

This is the rare book that you must purchase for yourself and another few for your friends. My copy will stay by my side as a reference. It is the definitive description of how the Orwellean absurdity of a preventative war leads, of course, to endless misery.

–Doris "Granny D" Haddock, author of Granny D: You're Never to Old to Raise a Little Hell.

Bay Area Film And Book Premiere Gala
On Nov. 19 in San Francisco, join AlterNet authors Christopher Scheer and Lakshmi Chaudhry and filmmaker Robert Greenwald for a screening of the new film, 'Uncovered: The Truth About The War in Iraq,' and a signing of AlterNet's new book, 'The Five Biggest Lies Bush Told Us About Iraq.' Food and drink reception precedes the event.

Wednesday, Nov. 19, 6-8pm
San Francisco LGBT Center, 1800 Market St., San Francisco
$25 General seating/$100 Reserved seating includes copy of book and DVD of film (all contributions are tax-deductible and go toward AlterNet's Election Coverage 2004 Fund).
RSVP and information: darci@alternet.org
Posted by Christopher on October 29, 2003 @ 3:25PM
Robert Scheer at SoCal bookstore
Robert Scheer will be speaking about the book and selling signed copies at 7:30 p.m., Nov. 18 at the Santa Monica Barnes & Noble.
Posted by Christopher on October 29, 2003 @ 3:04PM
Trucks are on their way!
The book has been shipped from the printer. As soon as we get ours, probably in the next day or two, we will immediately be sending copies to those who donated money to the project, as well as those who preorder. Thank you for your support!
Posted by Christopher on October 29, 2003 @ 3:01PM
Radio appearance in L.A.
Christopher Scheer will be on Los Angeles radio station KPFK 90.7 Thursday afternoon, at 4:00 p.m., to talk about the book and Iraq.
Posted by Christopher on October 29, 2003 @ 2:59PM